Responding To Trauma As A LGBT/SSA Mormon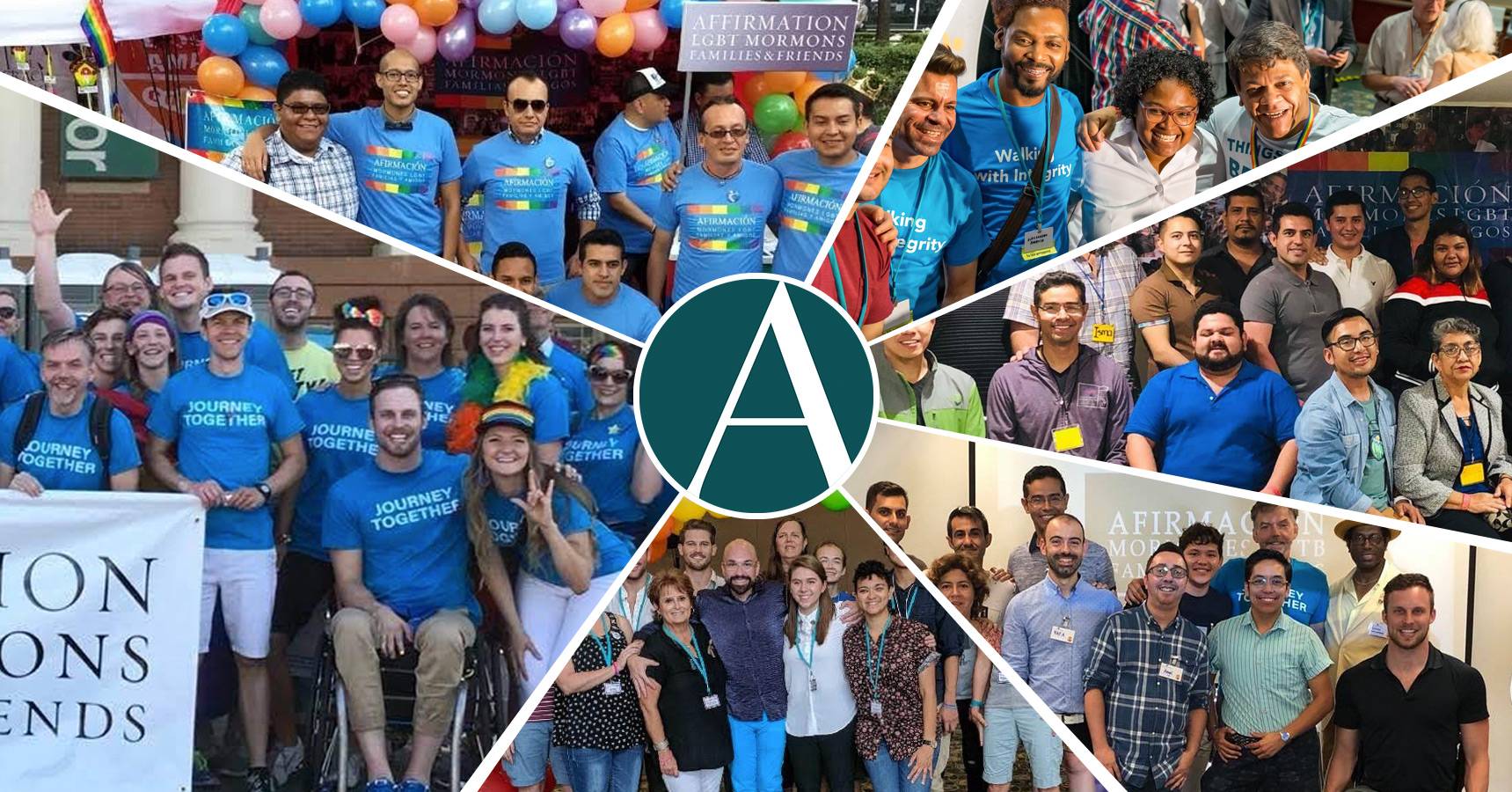 This was originally posted on starsintheocean.typepad.com
This talk was given on Sunday, January 17th, 2016 at the California Conference for LGBT/SSA Mormons, Families & Friends Some words and sentence structures have been changed for readability, clarity and flow, but the basic content and message I hope remains the same.
Introduction
The human body has predictable physiological processes.
For example, there is the predictable process of digestion: when we ingest a piece of food, it is used to nourish and support the function of our bodies and then what isn't used, eventually leaves us.
The same holds true for the physiological and neurological processes by which we as humans are designed with drives within us to seek out a romantic partner.
I recently spoke about this — In our brains is a neurological drive to pair bond with another human being — sometimes we tend to think about this as simply being the sex drive, but it isn't. It is actually much more complex than that.
Not only do we all have a sex drive, but we also each have a romantic drive to exclusively pair bond with another human, and an attachment drive which has the function of connecting two people together over time; thus maintaining that bond in an ongoing partnership which provides a critical warmth and stability to our lives.
So those are drives that we have — every single one of us as humans.
Our romantic drive to pair bond primarily operates due to the release of high amounts of a neuro-chemical called dopamine that gets activated in our brains; and within this process, there is also a predictable response to when romantic love cannot be achieved.
Once this romantic drive has become activated within us, and then for whatever reason, gets the unfortunate signal that winning or attaining the person we wish to pursue, just isn't going to happen — our brain's first response is to not give up. Instead it produces even more dopamine, and thus chemically pushes and focuses us to try even harder to win over the beloved person.
This can lead us to do all kinds of crazy things; the kinds of things that are often portrayed in movies — like showing up unannounced on a door step and singing to again profess our love. We are ready and willing to risk it all because that prize — "life's greatest prize" as its been described by the leading researcher on this topic — is so very central to us as humans.
Despite the push to take such great measures, when the brain finally receives the information that no matter what we might do, achieving romantic reciprocation from one we love still just isn't going to happen, the brain eventually switches into a second phase response. In this phase, all of the dopamine production in our brains suddenly shuts off; triggering the parts of our brain responsible for feelings of devastation, depression and even physiological pain.
The loss of life's greatest prize brings us into despair, which typically stays with us for some time, until we eventually regain some sense that we will one day be able to find and achieve love with someone else again.
So why do I share that?
It is because as a gay Mormon and lifelong member; faithful to the covenants of the church, it is that despair; it is that devastation; it is that deep loss of not ever being able to attain a same sex partner that has been my pain to bare through the various chapters of my life.
After Christ's crucifixion and resurrection, He came and visited the Nephites. The first thing He did was show them the wounds in his hands and in his feet. He invited them to touch and to feel. I believe sharing our wounds is a vulnerable and Christlike act — a way by which we connect and come to know one another as children of God.
The topic of my talk today is responding to trauma as an LGBT/SSA Mormon — that has always been a big topic — but it feels even more so presently.
The word trauma comes from the Greek word traumatica, which literally means wound. Trauma is the shattering of our worlds; the shattering of our assumptions about our own safety and our wellbeing — the loss of our ability to function in the world we want to see and understand as predictable but now feels like it no longer is.
My work over the last few years as a therapist has not only been connected to designing outreach to LGBT Mormons but is also very much informed by my work with victims of trauma—primarily survivors of sexual and physical assault–and more recently — also trauma related to inner-city criminal violence.
In my work with survivors of trauma, I once used an exercise with my clients where I invited them to paint an outline of their bodies, and then to attempt to also paint what they felt inside as a result of the things they had suffered — to make seen what was difficult for others to see.
Eventually (this was during my own process of coming out publicly) I attempted this exercise for myself in my own mind: I remember sitting down to paint what I had felt inside about me being gay as a Mormon. I quickly sketched in my mind a black outline of myself. Then immediately my impulse was to paint the entire image black — just black it all out as quickly as I could. And when that didn't feel like enough, my impulse was then to flip the painting over so no one could see it — so even I couldn't see it. But when that again still didn't feel like enough, my impulse was that I needed to get the painting out of my sight.
For me, this exercise portrayed what it had been to internalize and feel like this part of myself could not exist; that it was so bad, nobody could see it — not even me.
Denial & Intrusive Thoughts
When we are attempting to deal with trauma, a couple of significant psychological processes come into play: one is denial and another is intrusive thoughts. Both of these words can sometimes have a negative connotation, but in this case they serve an important function. With denial: "The initial impact of the traumatic event is likely to be overwhelming. Denial enables [us] to re-establish some equilibrium and confront the threatening experience in smaller manageable doses." –Shattered Assumptions by Dr. Ronnie Jannoff-Bulman–
With intrusive thoughts, we are given an opportunity to re-confront and work piece by piece on the difficult data. We gradually take all of the feelings, images and memories, and process them into language, new understandings and meaning. This eventually allows us to integrate our experiences in with the previous assumptions we began with. This can be quite a lengthy process.
The Impact & Severity of Trauma
Experiences of trauma can be different for different people. A useful analogy might be of a neighborhood where on one side of the street, five houses are destroyed in a natural disaster. For every household on the block, in reality their experience is different: some households have great financial resources to deal with the devastation, while some do not; some have an excellent support system to help them get through this difficult time, some do not; some may have had insurance, some do not; some may have lost family members and or had physical injuries, some do not. It's a very individualized experience even when on the outside it can appear like everybody just went through the same thing.
In trauma, some of the factors that contribute to its impact and severity experienced by the individual are:
Resources: The individual's resources such as their support system, knowledge of available information, and coping skills
Age: the younger one is, the less likely we are to have developed the language and abilities to process and manage our experiences
Trust: How close is our relationship to any individual potentially responsible for inflicting oppression or violence or pain — was it a stranger or someone in a significant position of trust which can create a deep sense of betrayal and a shattering of one's sense of safety
Duration: Was it a one time incident or was it a repeated situation over time
These are just some of the factors that we can use to assess the impact of trauma in our own lives and in the lives of others, and can inform how we think about its severity.
Talking and Listeners
After I had been out publicly in my ward for several months — because of my marriage and family therapy graduate program — I was lucky to have the requirement to complete 12 hours of therapy in order to graduate. I remember sitting down with an LDS therapist at that time and sharing with her things I was going through. I expressed a lot of distress and feelings of being overwhelmed every Sunday when I'd go to church. This was because it hadn't been long since I had been informed by one of my ecclesiastical leaders that I was no longer to talk about being gay there. My therapist asked, " If you had to put your pain into an image, what would it look like? "
Nobody had ever asked me a question like that but immediately, an image came into my mind which surprised me. I shared with her that my pain looked like a giant rock about the size of a cinder block and it was pressing into my hands, causing them to bleed. And as I looked down at this rock, I noticed that it was covered in blood, but in the same moment, I realized that all of this blood on this rock wasn't mine. And at that moment, I felt very distinctly that this rock had been passed around to LGBT/SSA people like myself, many many times. As we seek to process through and recover from trauma, it is imperative that we talk; so the burden to be quiet, is a burden indeed.
As LDS people, we are pretty good at many things. A couple that stand out are first, after a natural disaster, we are pretty good at arriving on the scene; helping individuals to sift through the rubble and damage as they confront the difficult task of figuring out what to do now?
As individuals have to deal with the reality of their situations — in this case of what to do as an LGBT Mormon — it is similarly critical to have people who will come and work at our side.
It's also a great trait of Latter-day Saints that we know how to help people when they move. And so whether in the event of cleaning up and rebuilding or of an individual deciding to rebuild somewhere else, we can help them along the way in finding what remains valuable in the rubble to take with them and offer our help as they move on.
One of the primary parts of that role is to listen, which certainly sounds simple, but listen to the words of one of the foremost experts on trauma about listening, and the role that it plays in recovering:
" Without a listener, the healing process is aborted. Human beings, like plants that bend towards the sunlight, bend towards others in an innate healing tropism. There are times when being truly listened to is more critical than being fed. Listening well to another's pain is a primary form of nurturance, capable of healing even the most devastating of human afflictions; including wounds and scars of violence, even the horrors of war and large scale social trauma. Children speak their pain automatically when there is a listener, but learn to hide it when there is no ear to hear." –Healing Through the Dark Emotions: The Wisdom of Grief, Fear and Despair by Mariam Greenspan–
"When you listen generously to people, they can hear the truth in themselves often for the first time."
-Rachel Naomi Remen, MD-
There are many of us here who have carried the rock of imposed silence. But we need listeners, and we need to look for listeners until we find them.
Reclaiming our sense of Agency
A significant part of recovering from trauma is reclaiming our sense of agency; even in the face of something that has happened to us, we must learn to reclaim our sense of empowerment; our sense of control over our own lives.
As we find our voice, many of us even advocate for others. It is difficult to sit with and sift through our own pain, without feeling in our hearts that nobody should have to go through what we have had to if we can help it. And its an important part of the healing process to be able to have that voice.
In the end, that sifting through the rubble, and finding what is still workable and valuable; deciding where to rebuild and how to rebuild; integrating new knowledge of opportunities as well as our risks and our losses; being able to identify what will genuinely work moving forward; that is our task. It can take a long time but again that is our ultimate goal.
In the lives of LGBT Mormons, those outcomes can look very different. Our relationships with God and our closest intimate relationships we form with others, are all so very personal and so hard won that this indeed is sacred ground. And no matter where we come at this from — no matter what we decide — there will be those who will judge us negatively. They will look upon our deeply meditated and sifted through resolutions and still only see dross.
And yet I know that for so many of us, those resolutions are hard earned and whatever relationships we have attained — be they with God and or with others, or wherever we have landed through that process, these are some of the most valuable things to us, whether someone chooses to see that or not.
Finally, in addition to our resolutions, we get something else — something that in psychological literature is called: Post -Traumatic Growth. It is for many of us a well of compassion for others; it is the deep desire to reach those who are also in pain; it is the want to reclaim others from the margins and from isolation; and to walk with them as others have walked with us.
Secondary Trauma
In this journey, there is also something called secondary trauma — felt primarily by those who are especially close to us and come to know our pain. In Gethsemane, the Savior himself when he suffered on behalf of others, cried out to the Father to take the bitter cup from Him. And so it is with secondary trauma — it is very real to families, to allies and to others who may be close to their LGBT Mormon loved ones. They too need the kind of process and support I have just described.
My Testimony
I want to close by sharing my simple testimony of the Savior Jesus Christ and of the Spirit of God that we sung about — of their willingness to help each of us in our unique processes of healing. I believe that is true with all my heart, and I say these things in the name of Jesus Christ, Amen.
Laura Skaggs Dulin
M.S. Marriage & Family Therapy
Stay Connected. Receive our free e-newsletter, articles, events, and more. Subscribe below.