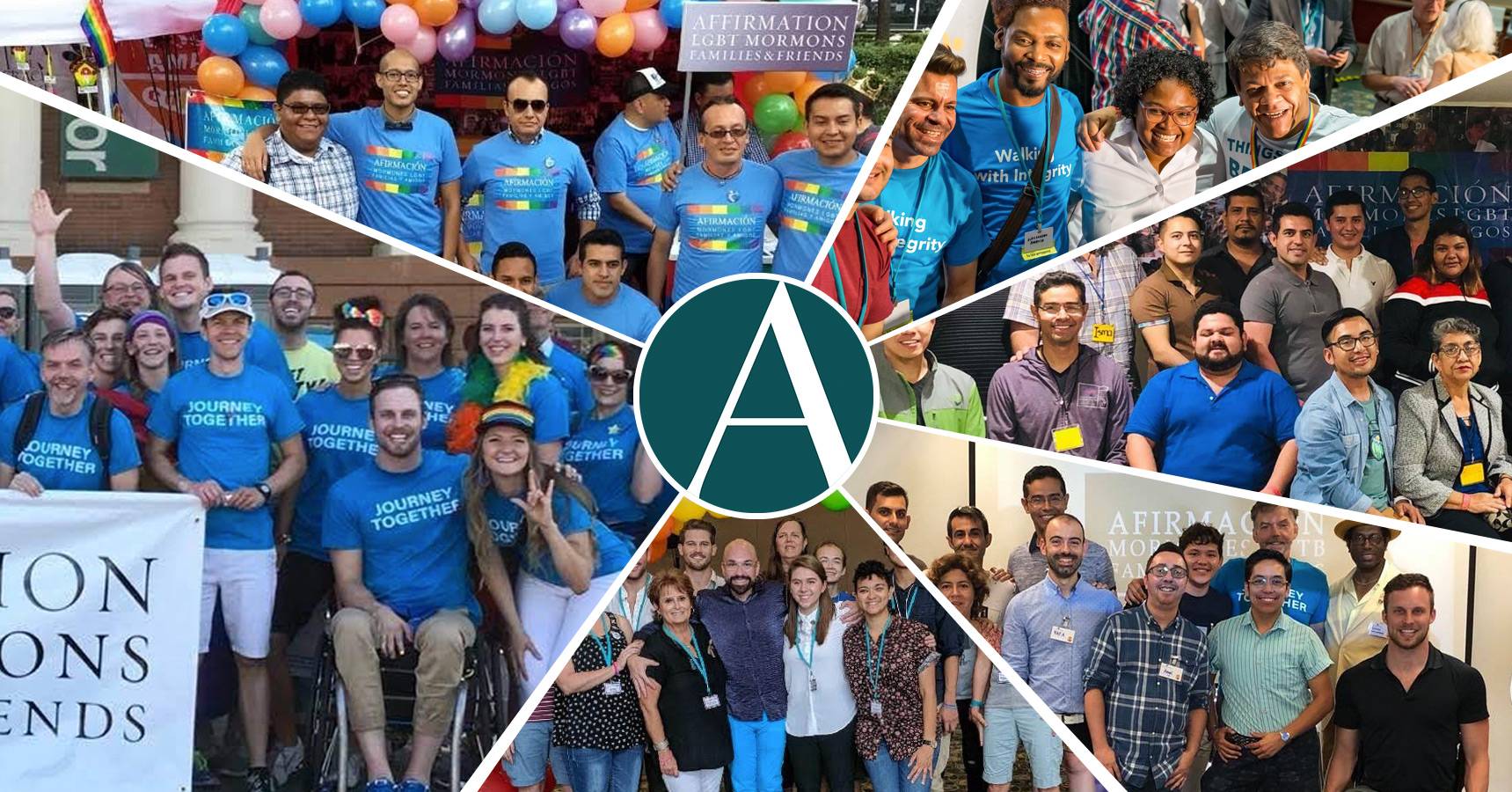 by David Fletcher  Cross-posted with permission from his personal blog.
I needed to jot down some of my feelings, like many of you on- and offline. I'm not a writer, so this may be awkward and reader-unfriendly.
Several events of my life have colored my expectations for gay people in the Church. I have known I was gay since I knew about sex, and when I was a teenager I was sent to behavioral therapists to try and change my orientation, without success. Even then, I understood that it was simply a preference, liking "green" curtains instead of "blue" ones. My last therapist at BYU told me I needed to repent, and then it would change. Repent, of what? I had exactly zero experiences, sexually. I stopped the therapy, and never went back.
My mission was aborted when I matter-of-factly mentioned that I was gay. BYU would not let me return without a period of adjustment, because I was gay.
I dated women, even though I was very awkward, socially, and I'm told they liked me on dates because I was the perfect gentleman, hands-off. I did finally meet a girl I truly loved, and we became engaged, and for more than a year I didn't know how it would play out, because I knew the marriage would not happen. I wasn't going to put a woman through that. Fortunately, she met someone else and we broke off our engagement. She has had a beautiful life in the church.
Through all of this, I continued to attend church. Why? Because this is my tribe, my people, this is the truth on earth, and I loved to feel the breath of the Spirit whispering in my ear. Truth is slippery, though; certainly I rationalized that it was OK to be gay and LDS, knowing that there would be discord in future. I kept my preference to myself, not in the closet, per se, but personal. Anyone who befriended me for more than a half an hour would know I was gay.
After college, I lived for a couple of years at home with my parents in New Jersey, and I attended my home ward. I was given a number of callings (like membership clerk), but became increasingly critical. A key event happened in 1983: my father told me I should take one of their cars, and drive into Manhattan to go to church. I agreed to try this, thinking that I might just use the car and the day to take a holiday from religion (see a movie, or something).
The first time I showed up in church in Manhattan, I was introduced to Bill Cottam, a new Bishop. He knew my sister Peggy, and he knew somehow that I played piano. He said they needed a Primary pianist that very day, so I did that. After church, he called me to the job. So much for church holiday! Every Sunday for a whole year, I drove into Manhattan to go to church, playing the piano for the children.
My father had known that I might respond better to the wards in Manhattan, because of their diversity, and he was right to send me there.
Though I had never played the organ before, in October, 1985, I was called to be the ward organist, because there really wasn't anyone else to do it (at the time). I had to teach myself to play the organ, and it was several years before I was actually comfortable. Being the ward organist, though, gets you to church, every week, and on time. I like routine, and this helped me.
In 1986, Bishop Cottam called me into his office to ask a favor. There was to be a funeral for a young man who had died of AIDS, would I be interested in playing the organ for it? I said yes, but why the hush-hush? He said, because he was gay and you're gay… pause, pause, how did you know? I said, and he said, "Power of Discernment." We had a good laugh. The young man who had died was a return missionary, with a lover, and they had recently been reactivated, only to have their lives cut short. They both died within several months of each other. Bishop Cottam had dressed the LDS brother in his temple clothes for the casket.
I said "So now it's in the open. I'm gay, and I'm trying to find a companion. If you feel it's inappropriate for me to hold callings in the ward, like being the organist and sitting on the stand every week, I'll comply with your wishes. I don't want to shake someone else's spiritual experience, and I don't want to break eternal rules."
And he said "You were given a gift from God, and you are giving it back to us. You are providing a great service, and what is Christianity if not that?" We had a kneeling prayer together.
And that was that. I had found my calling. I had found my ward, my truth, my future.
I have played the organ every week for 30 years. I have led the choir for 3 different periods. I have taught Priesthood, Sunday School, given talks; played for baptisms, weddings, and funerals; composed over 30 vocal pieces for Sacrament Meeting; run the Stake Christmas Concert, and conducted a concert of LDS forces at Carnegie Hall. I have played the organ for church functions at Radio City Music Hall and Madison Square Garden. Though there has been some discord, I have never been away from the Church for more than a short burst.
It's different, this time.
DAVID FLETCHER began his professional career as the musical director for the summer stock series at Sundance Resort, in Utah, and has played piano and conducted many musicals in New York, New Jersey and Utah and cabaret performances in Atlanta, Boston, Chicago, Los Angeles, Salt Lake City, San Francisco and New York. He worked as a pianist/conductor for three seasons at the Papermill Playhouse in Short Hills, New Jersey. He played piano in the orchestra for the Off-Broadway hit Dames at Sea at the Lamb's Theater.
He assisted Mary Rodgers and Stephen Sondheim during the production of Follies in Concert at Avery Fisher Hall, which benefited the Young Playwright's Festival. His original music was heard in the plays Vinaigrette at the Village Gate, The Leaves Are Off the Trees at the No-Smoking Playhouse, and his songs have been played in cabarets at Palssons Supper Club, Don't Tell Mama's, The Village Gate and The Lyceum Theater. He has composed music for national television on the A&E Network, including the scoring of a Hal Prince interview and Caroline's Comedy Hour, and many bumpers and promotional spots, including the music for The Great American History Quiz on the History Channel.
He has composed incidental music for a number of plays, including Barabbas, presented at the Cathedral of St. John the Divine, and The Wild Ass's Skin, presented by the Handcart Ensemble. D. studied composition at Brigham Young University with Merrill Bradshaw, David Sargent and Robert Manookin, and conducting with Ralph Laycock and Clayne Robison, and sang in the BYU Oratorio Chorus, conducted by Ronald Staheli. He earned an MFA in Musical Theater Composition from New York University, where he received the Hammerstein Scholarship.
David is the the organist and choir director in the Morningside Heights Ward of The Church of Jesus Christ of Latter- Day Saints. He was the organist for Church Area Conferences held in Radio City Music Hall and Madison Square Garden. He organized a sacred concert at Carnegie Hall and conducted The Mormon Oratorio Chorus, made up of LDS members from the tri-state area. His religious and theater works can be heard on seven current CDs: Lift Me, with Charlotte Smurthwaite; Eternal Day, with Ariel Bybee, On Stage, with David Barrus, Wondrous Love with Sarah and Peter Asplund, and Jonathan Austin, Wondrous Love with George Dyer, Sabbath Song II with Clayne Robison, and Rejoice Greatly (sacred Christmas music) with Jamie Baer Peterson and Winona Vogelman. His works are published on the SONOS label, through Jackman Music Corporation.  
Despite it all, David plans to continue providing music for his ward.
Stay Connected. Receive our free e-newsletter, articles, events, and more. Subscribe below.