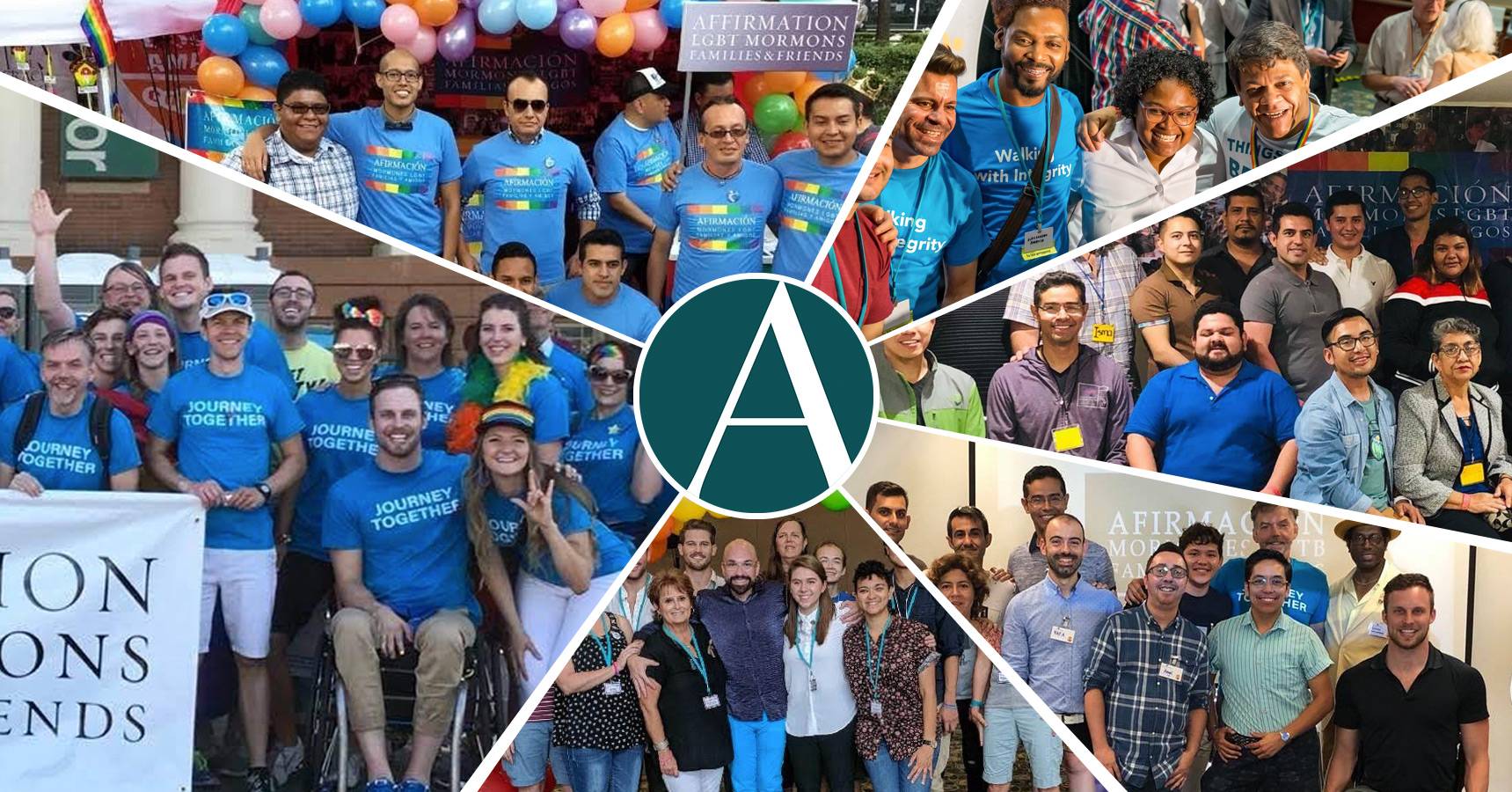 by Ruben Michael Chavez Gay, Jr.
How may I begin? From childhood, I was never a troublemaker. I was never that great. I never excelled over other kids. This is just the story of a simple mortal named Ruben Michael with last names Chavez Gay. I always tried to be a good boy: obedient, spiritual, studious…
The religion that my parents taught me was the Mormon religion, the church in which I grew up, which all my life has been my entire social circle, and also the church I love. I have always been loyal, obedient and have always held to the standards and statutes that my parents and the church had taught me. I should also say that I also went on a mission and I served God with all my heart.
I should add one more thing here. This might be an insignificant thing for many, but believe me it is not. Not at all! And much less so for members of the Church, as we are. It is something that can be written in: 2-3 words, a sentence, a paragraph, a litany (like the one I´m writing) or may be a book, why not? What I have to say is that "I´M GAY." Aaah..! those little words are soooo hard to pronounce, to accept and to live with!
Saying it, I realize I´m 23 and I´m barely starting to figure it out.
Some months ago, I was going through a very hard stage in my life because of this situation, and an old friend invited me to a conference where precisely this topic was discussed. "We are all alike unto God" was the title of the conference. Our relationship with the church was the focus of this conference and, I´m ashamed to say it, but with many doubts, traumas and fears overcome, I went doubtfully.
This was a gathering of a group called Affirmation. You have no idea of how much this changed my life. My life took a 180° turn. Everything I heard, learned and also the friends I met there, changed my perspective and my life completely. Even now after 3 months it is still changing at a great pace.
To meet guys with my same attraction but who are good members of the church, good people who also share your ideas, goals and beliefs was and has been an incredible experience.
For myself, I get what it is to be a melancholic person, a person who has tortured himself his whole life trying to change, who, all his life, has been waiting for the miracle of becoming straight, who, every night without skipping a single one, prayed with tears in his eyes in order to be changed and to be normal, to be forgiven. (Between us, I even used to fast even for 48 hours in a row for my fasting to be more powerful, hoping that maybe God would hear my pleas and grant me that miracle.) I went on a mission with the same hopes, but without success.
Actually, you want to know something? Many times in my prayers I asked God to take me to Him. Why I was still here? I didn´t want to live anymore because my life had no meaning. I was terrified of disappointing my parents, my leaders and my friends. The simple fact of thinking that they could know, made me feel better off dead.
I was soooo homophobic. I remember when I entered the first meeting of the Affirmation conference on Saturday morning (aaah! because I didn't have the courage yet to go Friday night when the conference officially started), I thought: "Ruben, What in the world are you doing here? Look at you! You are in closed room full of gays!" I won´t deny that at first I wanted to run away, but as I continued to listen I started to feel more and more that I could relate, I felt more and more comfortable, to the point that I shared with everybody some of my past experiences with my bishop and my parents, especially with my mother.
She behaved very badly with me before I went on my mission.
My bishop told my dad (who was his first counselor) that I was gay, when the only thing I told him during my interview was that I had a "small attraction" but that I wanted to fight to change, to live the gospel and to apply the atonement in my life. He even told him that I wasn´t qualified to go on a mission. Obviously my dad told my mom and she took it very personally. If I said "yuck," "ew," or "disgusting" in front of her, she would say (referring to my being gay): Other things are more disgusting.
Sometimes life is very ironic. The Mexican saying is very true: "Whoever spits at the sky will get it back in the face." My second last name is "GAY" and it is written literally like that. I inherited that last name from my mother. When I was a little boy she taught me that whenever a person asked me my name I had to answer: "ECHITO YAI" (translated it means Little Ruben Gay). Isn´t that weird? Why did I have to say her last name and not my father´s? Who knows. Ah! And something else. Also as a little boy she used to buy same tennis shoes for both of us and of course they were for girls! Can you imagine? I don´t understand her sometimes…
These have been very difficult days, I have changed a lot in only 3 months. I've spent several nights weeping, in which I slept listening to arias or opera songs and they were all very dramatic and intense (generally about death and misery) like those you hear in old World War II movies…
Something I really have to say is that even though it has been very hard, I have found sincere friends, something that I have never had before. I don´t even know how to express my gratitude to them, they have helped me so much. Today I can sincerely look myself in the eyes in the mirror and say: "Wow Ruben! You look soo gay today… hahaha." (Joking!)
Today I feel extremely happy. I´m very grateful to God because after so many years, I've finally received the answer to my prayers without number, and today I can say that it was all worth it. I´m also grateful to Affirmation because it gave me the resources to accept myself and helped me feel peace and comfort. Finally to its members, for being such great people, examples and friends to me.
If you that are reading this and have doubts about the group or its members, I invite you to know, to try, to ponder and even to ask God. I really understand you because I was in your position and you might feel a terrible fear, but I promise you that if in your heart you leave at least room to have "a simple desire to believe" (as the prophet Alma said), your life can change for good and you could be really happy. We are all sincere, supportive, friends (real ones) and whatever your decision is or whatever pathway you take, we will always respect your decisions.
Finally I would like to say that I don´t know what my purpose in this life is yet. As we say in Mexico: "God knows." Only He knows why He sent me like this to this earth but now I feel that He loves me and supports me. I feel balance and harmony in all aspects of my life: as a singer (I´m studying opera professionally), but also as a spiritual being and also as the individual that I am.
The fact of being gay is not a disease, neither an obstacle in our lives. It actually makes us very special and unique. As I love to sing, I can tell you that now I sing with a different purpose and a higher feeling. These feeling run from gratitude to happiness to be who I am and personally I dedicate my singing to God and my loved ones for making my life meaningful again.
This coming summer vacation that I will go visit my parents (because I don´t live with them, I´m studying opera in a different city). I will talk to them and I will express everything that is in my heart, the changes I have been passing through, and also all the sorrow that I have had during my entire life to be able to have reached this point now. Some months ago I would have sworn that I was never going to tell them, but I feel this is the time and I know God will help me.
I will say it one more time: I love this church, I support it and that will never change. Sounds a little incongruous or stupid, but even if the Church were not to accept me, I wouldn´t leave it. I know that God is my Heavenly Father. He loves me as I am and I know he has something prepared for all of us. Every day, we have much to do in order to strive to become better people and that is why, in my humble opinion, we have so many blessings.
We are brave and we have tremendous worth. I´m sure of it. I have no doubt in my heart, and of this I testify in the name of Jesus Christ. Amen.
Stay Connected. Receive our free e-newsletter, articles, events, and more. Subscribe below.