---
Affirmation: Gay & Lesbian Mormons—Serving LGBT Mormons and Their Family and Friends Since 1977
---
| | |
| --- | --- |
| Inside This Issue |   |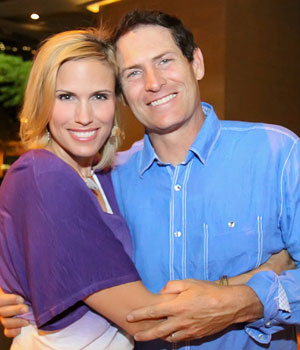 Barbara and Steve Young

Peter van der Walt
Steve and Barbara Young to Speak at Affirmation Conference
The Youngs Support The Family Acceptance Project, The Trevor Project
Keynoting the Saturday evening session of the 2013 Affirmation Conference will be Steve and Barb Young. Steve is well-known as a Hall of Fame quarterback, but he –along with Barb– are also known for their work with children's charities both here and abroad.
Together they operate the Forever Young Foundation, a non-profit focused on passing on hope and resources for the development, strength, and education of children. One of their recent exciting projects was the opening of Sophie's Place at Primary Children's Medical Center in Salt Lake City, a special room offering the healing power of music.
Another commitment that the Youngs have had for many years is that of bringing more understanding and love to the LGBT community, beginning with the many gay and lesbian friends and family members that have blessed their lives. Barb and Steve have been long time supporters of the Trevor Project, an organization providing crisis intervention and suicide prevention services for LGBTQ youth; the Family Acceptance Project, a research-based organization that uses a culturally grounded approach to help ethnically, socially and religiously diverse families decrease rejection and increase support for their LGBT children; and individuals doing great work in the area of teaching us all more what it means to "Love One Another."
Both committed members of the LDS Church, Barb and Steve are happy to be part of Affirmation's International Conference, where they hope to lend their voices to the healing work of making our families, our society and our church more welcoming places for our LGBT brothers and sisters.
New Frontiers = Broader Horizons
Travel from South Africa for the Affirmation Conference in Salt Lake? You bet!
by Peter van der Walt
Peter is a member of Affirmation's Communications and Spirituality teams
There are many different types of Mormons. I'm the weird kind. To me, Affirmation is the closest thing I have to a church. It is where I fellowship, where I learn and grow, where I act out my faith and how my faith is, in turn, affirmed.
To understand why I will attend the New Frontiers Conference in the middle of a busy work calendar, at a time when the Rand Dollar exchange is at historic lows and when I have a couple of degree assignments due that very week, you have to know what the Conference means to me. New Frontiers, to me, is a pilgrimage. I will visit Salt Lake for the first time. Meet several of my heroes, old friends and new friends. I will get to sing and pray and fellowship with others who are just like me (not such a biggie if you live in the States, I guess, but Africa is a looooong trip away).
New Frontiers is evidence that by small means the Lord brings about great things. That He has, in fact, consecrated my afflictions for my gain. That we are, to have joy. That He has not forsaken me – that He invites me to a feast.
New Frontiers is an opportunity… to solidify links, build networks, make connections. Nurture old friendships and start new ones. Talk business, talk life, talk love – and learn from the stories of others. Maybe get my partner to dance with Benji Schwimmer. New Frontiers is an affirmation… that I am not alone. That God is everybody's God – even mine. That men and women from all over the world and of all ages have much more in common than they have differences.
Plus, Trevor Cook is going – all the way from China! How would it look if I miss it? 😉
Come As You Are
Affirmation Belongs to Queer Mormons of All Stripes
by Sam Wolfe
Sam Wolfe is on Affirmation's Board of Directors and works for the Southern Poverty Law Center.
Exploring queer spirituality of most any kind is a favorite pursuit of mine which recently led to a remote mountain retreat with a group that touts providing space for radical freedom from societal norms and restrictions. But I was disappointed to see that the group had developed its own norms and aesthetic; and to be accepted, significant conformity seemed required.
Yet part of the fun and gift of being queer is getting to be different — not only from our un-queer friends, but from others among LGBTQ communities and even within our Affirmation family. In nature, variance trumps singularity. Queer people should be the model of honoring variance and differences, without condescension no matter age, gender conformity, marriage or church status, or hair thickness.
Today some in Affirmation have drawn closer alliances with sister organizations, engaged with "ex-gay" individuals, encouraged greater church activity for self-affirming queer saints who are so inclined, or unabashedly staked claims to their faith. And the Affirmation family also includes those who want to confront religious oppression, enjoy a peaceful distance from the church, or simply get together to socialize with other LGBT Mormons.
Whatever your personal preference, the Affirmation conference coming up in just 8 weeks is likely to have something for you. Affirmation belongs to queer Mormons of all stripes. Join us as you are. Practice some flexibility. There are opportunities to volunteer and to help lead or to simply be. I hope I'll see you at our conference in Salt Lake City.
Important Dates and Deadline
Affirmation Conference: All You Need to Know
Register by August 13–Before the Registration Cost Goes Up! 
Registration prices for the Affirmation conference will go up after theAugust 13 deadline. That means that you must register soon to take advantage of the $99 registration special. If you're registering online, you may use this link (not available on mobile devices). For more information, click on the registration tab of the conference website.
Scholarships Still Available
If you're a student or are experiencing financial hardship, we encourage you to ask for a scholarship, which will include a 50% reduction of conference registration, but you must act by September 6. For more information, visit this link.
Join the Affirmation Choir!
Just as she has done for the last two years, Judy is organizing a choir which will sing during the Saturday evening devotional. Whether you're soprano, bass, anything in between, or unsure, don't miss this chance to be part of it. If possible, plan your flight so that you attend the first choir rehearsal on Friday, September 13, at 4:45 PM. For more information, visit this link.
When You Should Get There
Please note that for this conference, the General Business Meeting has been moved to Friday. All Affirmation leaders and members are strongly encouraged to arrive in time for this meeting, which will be held on Friday at 6:00 PM in the Officers Club.
If this is your first Affirmation Conference, you're strongly encouraged to attend the First Timers Meeting, which will start on Friday at 4:00 PM in the Officers Club.


If you're a chapter or LGBT Mormon support group leader or are part of the international leadership team, please schedule your trip so that you can attend the leadership meeting to be held on Friday at 10:00 AM and the combined Board and Leadership Team Luncheon on Friday at Noon. Also, a Board of Directors meeting will be held from 1:30 – 3:30 on Friday.
Light Rail to the Airport
For the first time, we will be able to travel from the airport to the Univeristy Guesthouse using the recently expanded light rail system. Fare: $2.50 each way. Change from the Green Line to the Red Line at the Courthouse going to the U. Medical Center and use the Fort Douglas Station.
» Walking from Fort Douglas Station to the Guesthouse (.4 mile, 8 minutes)
Note: The light rail does not run 24/7, and weekend hours are limited. Check the schedules for the Green Line and the Red Line before buying your plane ticket.
Hotel Information & Roommate Finder
Make your hotel reservation by August 13 to take advantage of the special pricing we negotiated: $99 for 2 people, $109 for 3 people, and $119 for 4 people per night. Be sure to tell them you are with the Affirmation Conference. Click here to read about the hotel and for contact information.
We have created a Roommate Finder to help you find conference roommates and split the hotel costs.
Conference Scholarships Available
You Can Attend the September Conference for Just $50!
by Trevor Cook
We hope that everyone who wants to will be able to attend the conference. To this end, we are again offering the Irwin Phelps scholarship to help reduce the cost of attendance. Scholarship recipients will receive a 50% discount on conference attendance, bringing the price of registration to $50 as well as a year of Affirmation membership!
We particularly encourage students to apply for the scholarship. Just go to the conference registration page and select "Full Registration with Scholarship & Membership." After completion of a short application we send you, you will receive notification within a week. Applications will be accepted through August 9. Email any questions to [email protected].
Affirmation 2013 Conference Workshops Announced
Rich, diverse, and in tune with our times 
The conference planning committee is putting together a program that is rich, diverse, and in tune with our times. What follows is the preliminary list of Saturday morning workshops. Please join us September 13-15 in Salt Lake City as we explore New Frontiers and celebrate being LGBT and Mormon!
» See Preliminary Program
» Learn more about the conference
Living Victoriously
We Can Stand in Strength Despite Static Noise
To survive is not enough. To constantly just cope, to aim to get by, to try to reach 'being okay,' as if that was something worth aspiring to, not only robs us of our full potential, but is a denial of the power and promise of a God-given life.
And yet, just as I am about to make progress, just as I'm about to feel good or be happy, some self-righteous moral celebrity says something that bursts my bubble. They do it well —they practice all the time— and they always speak with a great deal of conviction.
As many celebrated the repeal of DOMA, others whined about how it would spell the end of civilization. When Prop 8 was overturned, thousands cried tears of joy. Others piled on the wrathful rhetoric. You post a happy picture on your Facebook wall… and one of your contacts feels the need to bring you right back down to earth with a nice cynical ramble or crude comments. It must needs be that there is opposition in all things, it seems (2 Ne. 2:27).
For many of us, both LGBT and straight, our religious walk can feel like a constant battle. We've been put through so much, and some of us were actually hurt. The result is that we always seem to be in the healing stage: Trying to cope; trying to get better; trying to achieve okay.
Those who always remind us of how bad we are don't seem to have the same problem. They seem positively fabulous… always there to chirp or demean or denounce or attack, with such self-assurance, and their worlds are all supportive. They are, after all, the majority. The status quo affirms them.
Now, healing is important. If you've been very hurt, I want to encourage you to do whatever you need to, to heal and get better. But there also comes a point when "okay" is just not enough: We want to walk in strength. Live life fully, blasting away at our pursuits of happiness with vigor and passion. A point where we are no longer on the defensive and have some self-assurance of our own. When we don't just survive but thrive.
There's a lot of static noise in the world. Sometimes from people we care about. Sometimes from church leadership. In my own experience, the thing to do with static is to tune it out.
When it comes to my own religious walk, I found that the irritation and hurt caused by those who constantly oppose me diminishes in direct proportion to how spiritually nourished I am. It's hard to feel confident when I seldom pray, never sing a hymn, live from crisis to crisis and forget to bring myself deliberately closer to Heavenly Father.
When I know my scripture like the back of my hand, empower myself with regular activity, uplift my spirit with the closeness I get from prayer, sing my hymns, do my fasting, then the words of the unjust are revealed to be exactly what they are. Ridiculous. Those who spread prejudice have been so consistently wrong throughout all of human history.
I'm extremely proud of Mormons. Over the past year I have seen Latter -day Saints, gay and straight, male and female, black and white, young and old, walk in Pride marches all over the US. I have seen resources and groups supporting and helping and promoting and accommodating–ordinary people working for a more just dispensation.
Surely there are those who do not support the growing arc in its bend towards justice. But actually, really, seriously: who cares?
It is time for good people to stop being so apologetic about themselves and those they love. It is time for us to walk upright, spread the love and make the world a better place. Yes, some will cry moral outrage (as they did once about interracial marriage). Tune out the nay-sayers like you would the annoying uncle at the family BBQ.
Some stiff-necked people will insist that God has forsaken you or that He is as bigoted as some of those who claim to be following him. The notion that he disapproves of you is just wrong.
God has NOT put you away. He has NOT cast you off forever. Where is the bill of your mother's divorcement? To whom has He put you away, to whom has He sold you? (2 Nephi 7:11).
So really…
Go ahead. Have some fun. Make some waves. Live a little.
Sunstone Symposium to Include LGBT-related Sessions
New Video "Families Are Forever" to Be Screened during July 31 Free Lecture
by Hugo Salinas
The 2013 Sunstone Symposium, to be held in Salt Lake City July 31 – August 3, will include several sessions related to LGBT Mormon experience, plus a screening of the new documentary Families Are Forever. Produced by the Family Acceptance Project, Families Are Forever chronicles the life and challenges of the Montgomerys, a Mormon family from California with a 14-year-old gay son.
On Wednesday, July 31, at 8:00 PM, a free lecture will feature Dr. Caitlin Ryan of the Family Acceptance Project, along with Mormon allies Robert Rees and Erika Munson, blogger Mitch Mayne, Ogden's OUTReach Center director Marian Edmunds, and Tom and Wendy Montgomery, who are the parents of Jordan, a 14-year old gay boy. The Wednesday lecture will include the screening of Families Are Forever. The One Voice Choir will provide some of the music.
On Thursday, August 1st, Utah LGBT/SSA Mormons, Family, and Friends will hold a BBQ Social in downtown Salt Lake.
On Friday, August 2, Affirmation Vice President John Gustav-Wrathall, Mormon Building Bridges founder Erika Munson, and psychotherapist Hollie Hancock will participate in a panel about the new blog No More Strangers: LGBT Mormon Forum. The panel will be moderated by longtime Affirmation friend Dr. Robert A. Rees (Session 252). In a 5 to 6:30 session titled "Circles of Empathy,"Kendall Wilcox, Berta Marquez, and Marie Worsham will discuss a small-group conflict mitigation practice for LGBTQ/SSA and straight Mormons.
Also on Friday, Affirmation Board Member Greg Prince will be one of the two speakers at the "Pillars of My Faith" plenary (Session 281). Throughout the Symposium, some 13 sessions will deal with women's and gender issues, including a Friday paper about the Heavenly Mother by Affirmation member Edward Jones (session 254).
On Saturday, August 3, a panel of LDS lawyers will discuss the Supreme Court case involving the legality of Proposition 8 (Session 334) . Also on Saturday, Dr. Gerald S. Argetsinger, along with authors Jeff Laver and Johnny Townsend, will discuss their new anthology Latter-Gay Saints: An Anthology of Gay Mormon Fiction (Session 355). In a the first part of a two-part panel, Connell O'Donovan will present "Redefining Marriage: 2,500 Years of Social History" (Session 354, concurrent with 355).
Throughout the Symposium, LGBT Mormons and supporters will help staff an Affirmation table and hand out educational resources. A social for LGBT LDS Mormons, families, and allies is scheduled for Thursday, August 1, in downtown Salt Lake.
All sessions will be held at the University of Utah's Student Union. Student registration is only $20 when you use the coupon code STUDENT13. For more information about the Symposium, including discounts for students and first-time attendees, please visit the Sunstone website.

Affirmation co-founder Paul Mortensen (right) with husband Robert Jacob in 2008
Call for Nominations for the 2013 Mortensen Award
The Deadline is August 1
It is time once again to call for nominations for Affirmation's highest honor, the Mortensen Award. The award is presented each year at our annual conference to a member of Affirmation who has served the organization in outstanding leadership and service during the past year.
The criteria for selecting a nominee should be:
Someone who is dedicated to the goals of Affirmation and has worked toward achieving them.
Someone who has shown outstanding leadership and service.
Someone who is a self-starter and a motivator of others.
Someone who is making a difference in the lives of others.
We ask that you look all around in Affirmation to find that one outstanding individual and then submit a nomination to the selection committee. The nomination should be in the form of a letter describing the individual and listing all the reasons this individual is qualified and should be selected. All members of Affirmation are eligible for the Mortensen Award, including past recipients of the award.
Do not submit just a name. We need to know something about the individual since the committee may not know her/him well.
The nominations must be received by August 1, 2013–no exceptions! Email them to Ricky Gilbert, chair of Mortensen Awards Committee. Please do not send copies to anyone else.
The award recipient will be announced at the Affirmation Conference in Salt Lake City. The selection committee is made up of past recipients of the award. Be sure to show this letter to everyone in your area. You may be the one who should be nominated and you may not want to nominate yourself.
If you have any questions, contact Ricky Gilbert. We look forward to seeing you at the Salt Lake City conference, which is certainly going to be a great event. Please start thinking about this award today and get your nomination in tomorrow.
Recent Stories and Articles
Posted on the Affirmation Website and Blog:
Posted on the No More Strangers Blog:
Stay Connected. Receive our free e-newsletter, articles, events, and more. Subscribe below.