Finding My Way Forward as a Lesbian Mormon
By Kathy Carlston
I've known that I was gay since I was a child. I grew up as a very diligent LDS woman and absolutely loved my experience in the church. But I knew that I needed to change, and desperately tried to do so. Unfortunately, years of therapy on top of decades of trying to change my orientation on my own seemed to prove unfruitful. I realized this in my late twenties and was devastated.
During a time in my life where I was near the end of my rope, I stumbled across a story written by Blake Hoopes in Brent Kirby's Gay Mormons?: Latter-day Saint Experiences of Same-Gender Attraction. Blake talked about how he had spent most of his life begging for God to take away his attractions. Then one day it occurred to him that he'd never thought to ask God how He felt about his being gay. He prayed with that question and described his experience in his story. I immediately dropped my book and finally asked God what His thoughts were about my life.
Instantly, I had one of the most intense, if not THE most intense spiritual experience that I'd had. I was filled with peace, acceptance, and, above all, hope. I felt inspired that God was not just all right with me being gay, but excited for me to find someone to love and live with forever. He was excited for me to spend my life finding different ways to make her laugh and make her as happy as I possibly could. But on top of that, I had an almost physical sensation of a switch being flipped in the back of my head. Suddenly, that desire and longing that I'd had to be dead, (that I'd carried since I was a kid) was turned off.
I spent the next year doing visual effects for movies, including The Avengers, Oz: The Great and Powerful and RIPD.  I was shocked at the amount of energy that was unlocked in my soul as the result of that one, affirming prayer. All of the energy that I had previously spent in trying to fight and change my attractions was now free to go to other places. I decided to move to Utah as my home base for a number of reasons, including the fact that I wanted to find a dating pool with folks who knew why Mormonism continued to be extremely important to me.
Berta Marquez and I became fast friends after I Facebook-stalked her, having heard her podcast on Gay Mormon Stories. She was the first one to hear the delightful news that my family said they wanted to come to my wedding, should that ever happen. She and I started dating toward the beginning of 2014. Later, she told me that three days before we worked together, she said a prayer in her car. She prayed for God to bring her someone brave who would help her to be brave, someone who would help with her advocacy work, someone who would always be kind, and a number of other things. For me, I feel like I recognized her more than anything else. Being in her presence feels like being home. It's like someone took all of the attributes I've loved the most about past loves and put them in one person, and then made her a fellow Trekkie. We had both written songs for Sir Patrick Stewart independently of knowing each other.
In October, same-sex marriage became legal for the second time in the state of Utah. Berta and I gave our friends and family only one week's notice of our wedding. We had around fifty people there who love us, including our parents and several siblings and cousins who made the trip. The memory of being enveloped in that cocoon of love still brings tears to my eyes.
At the beginning of my journey, I had no clue what the steps would be to get to a better place. But now I wake up every day with a wonderful wife. We've begun to attend church again, and have amazing leadership in a ward where we feel welcome and wanted. I feel secure in my heart and I trust God that the future will continue to work out. If there are any words of advice that I could offer, it would be to trust God, find your own path and know that you are worth of love and respect.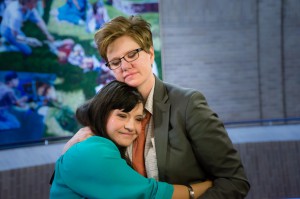 Stay Connected. Receive our free e-newsletter, articles, events, and more. Subscribe below.