May 19-21, 2017 Affirmation Retreat: If You Are Not One, You Are Not Mine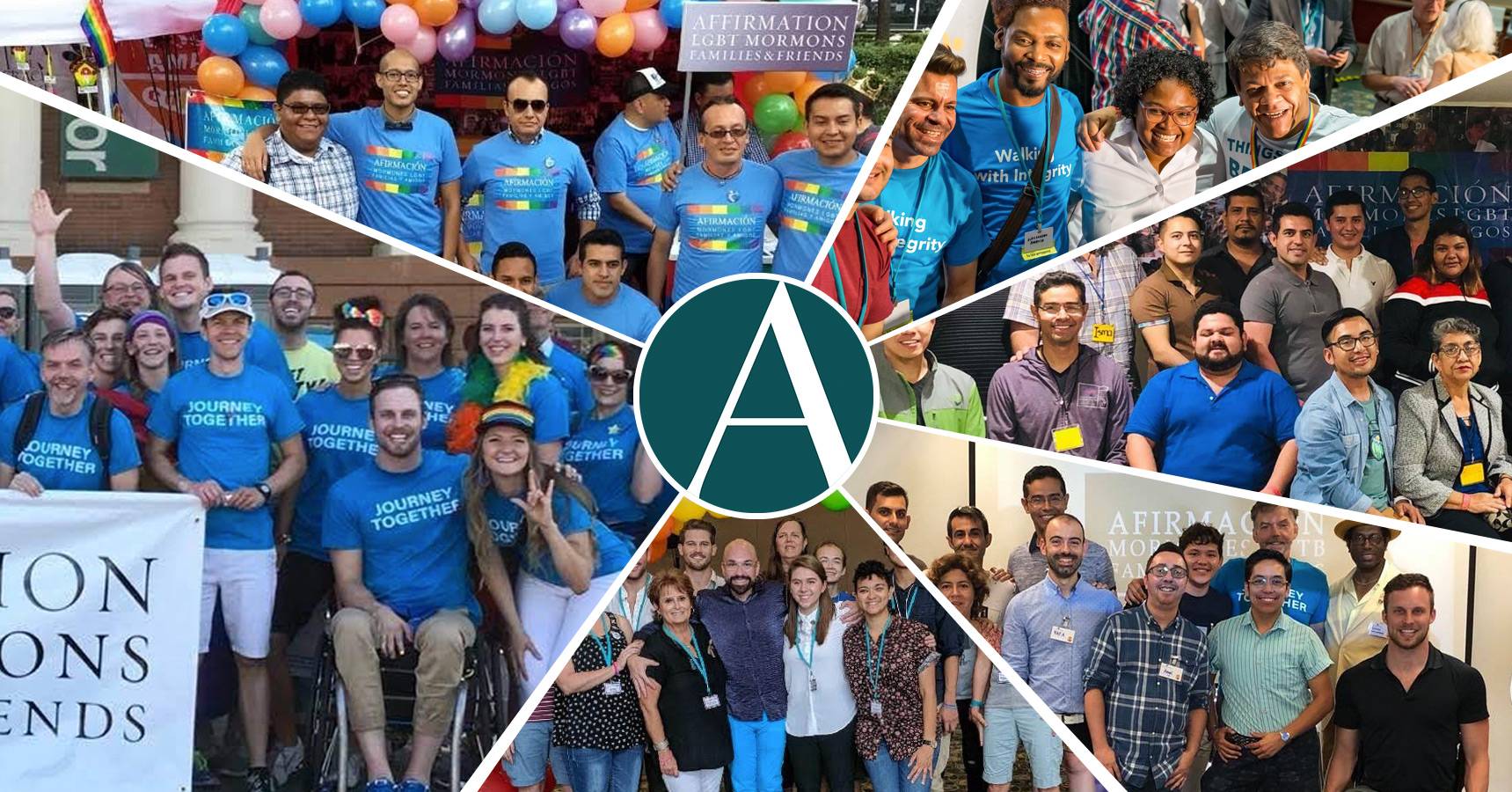 If You Are Not One, You Are Not Mine
A Spiritual Leadership Retreat Focusing on Intersectionality for LGBT Mormons, Families & Friends
Register here
LGBTQ+ Mormons, and their Families and Friends are invited to a spiritual/leadership retreat in New Hope, PA, May 19-21. This retreat is for all who are interested in service in the LGBTQ+ Mormon community, whether you are currently in a position of leadership or not!
This year's theme revolves around the concept of intersectionality, which was first used by Professor Kimberle Crenshaw to explain overlapping social identities as they relate to discrimination and oppression.
For example, are you an active Mormon who is gay, Latino, and disabled? Are you Mormon, female, black, and lesbian? Do you identify as LDS and asexual and feel the need to downplay either of those things at work, at church, or in the community? Were you once a practicing Mormon who has now come out as transgender as well as bisexual? Are you a lower-income Asian-American agender person? Are you an elderly white man unemployed due to shifting global economic forces? Many of us experience increased marginalization due to intersecting minority identities.
Race, ethnicity, class, immigration status, gender, sexuality, age, religion, and ability are all characteristics through which we might experience discrimination and inequality.  An intersectional lens brings awareness to all forms of oppression and helps us realize the ways we might act as oppressors, as well as the ways we are oppressed.  Through intersectional awareness, we can understand the diversity of our experiences as LGBTQ+ Mormons and engage in a spiritual practice that "undoes the heavy burdens" and "lift(s) up the hands which hang down," thereby helping us become one in Christ.
New Hope, Pennsylvania
New Hope and its Sister City Lambertville are two very LGBTQ+ friendly communities. During the weekend of our retreat, they will be celebrating pride. We will allow some free time so that those interested can also participate in the these events. If there is enough interest, we will provide transportation for those who will be attending without a vehicle.  For more information on New Hope/ Lambertville Pride Events: http://www.newhopecelebrates.com/pride-parade.html
Deer Park Camp

Deer Park Camp welcomes all people regardless of race, color, religion, creed, gender, sexual orientation, or age. For more than 100 years Deer Park has been a retreat center in Bucks County, PA committed to providing an environment that fosters interpersonal and spiritual growth. The Deer Park Camp and Retreat Center is owned by the Community of Christ and provides 76 acres of outdoor space, sleeping and dining facilities, and numerous meeting rooms. Deer Park is a peaceful, pristine, and preserved woodland where people come to celebrate, retreat, recreate, grow, and be close to nature.
The main building at the site where sessions will take place is the Auditorium, built in 1876, which is a Pennsylvania-registered historic building.
Speakers
Fatimah Salleh – Dr. Fatimah Salleh was born and raised in Brooklyn, NY. She is the daughter of a Puerto-Rican and Malyasian mother and an African-American father. Dr. Salleh received a Masters in Journalism from Syracuse University in 2001 and her doctorate in Mass Communication from UNC-Chapel Hill in 2012. She then went back to school to pursue a Masters of Divinity at Duke University in hopes to work out her own religious crisis. She has four children: Micah, Xavier, Ronin, and Zora. She has been married to her husband Eric for 15 years.
Emmett Claren – Emmett is a 23 year-old Transman. He loves getting lost in the mountains and listening to music. Filmmaking and inspiring others are his passions, along with eating food. Emmett is currently active in the LDS Church and spoke at the 2016 International Affirmation Conference. His story has been featured in The Guardian, The Daily Beast, and The Huffington Post.
Neil Aitken – Neil Aitken is the award-winning author of two books of poetry, a former computer games programmer, and a translator of contemporary Chinese avant garde poetry. Of Chinese, Scottish, and English ancestry, Neil was born in Vancouver, BC, Canada and grew up LDS in Saudi Arabia, Taiwan, and various parts of the western United States and Canada. He holds a Ph.D. in Literature & Creative Writing from the University of Southern California, and has taught intersectional creative writing courses and workshops.  Neil is the founding editor of Boxcar Poetry Review, as well as the curator of Have Book Will Travel, a web resource that connects authors and reading series. He currently lives in Vancouver, WA where he works as a creative writing coach. His most recent book, Babbage's Dream, explores the interplay of beauty, loss, faith, and science as it pertains to the history of computers and our own relationships with technology.
Terry Blas – Terry Blas is the illustrator/writer behind the comics Briar Hollow, Ghetto Swirl and the NPR featured You Say Latino and has had his work appear on covers for Regular Show, The Amazing World of Gumball, Rick and Morty and Adventure Time. His latest book is a fat camp murder mystery titled: Morbid Obesity, to be published in 2018 by Oni Press. Raised LDS, he grew up between Boise, Idaho and many cities in Mexico. He is proud of his bicultural, Latino heritage and proud to identify as gay in a world with ever changing labels and identities.
Accessibility/Restrooms
The historic nature of the camp presents some challenges in accommodating those with physical disabilities. Many of the camp buildings were built before the Americans with Disabilities Act (ADA) and are not fully ADA accessible. However, the camp staff is working with us to make accommodations as needed.
There are single-person restrooms onsite that wheelchairs can fit into. These restrooms have handrails. There are showers with shower chairs and handrails, although a wheelchair cannot roll into them.
There will also be designated gender-neutral restroom/shower facilities.
Please contact us with any questions about accessibility, and the conference team will make arrangements to accommodate your needs.
More information about Deer Park Camp can be found at: http://www.deerparkcamp.com
More information about preparing for the camp experience and a suggested list of what to bring can be found at the American Camp Association website: http://www.acacamps.org/campers-families/planning-camp/preparing-camp/what-bring-camp
Registration & Lodging Information
For overnight stay, lodging at the historic Deer
Park Camp will be $33 per day/night.
The daily rate is $17 per day for those not staying overnight.
The food cost for the retreat, which will include all meals for the entire weekend, is $35 per person. Conference meal planning includes light refreshments on Friday evening. See below for more details.
Pricing Breakdown:
Full Weekend with Meals and Overnight Stay: $118 
–2 Nights @ $33 each ($66),  plus Single Day Pass @ $17, plus Meals @$35
Full Weekend with Meals and No Overnight Stay: $86
–3 Day Passes @ $17 each ($51), plus Meals @$35 
Full Weekend with Overnight Stay and No Meals: $83
–2 Nights @ $33 each ($66),  plus Single Day Pass @ $17  
Weekend with No Meals and No Overnight Stay : $51
–3 Day Passes @$17 each 
Single Day Pass: $17 ( Friday or Saturday or Sunday)
One Day Meal Pass : $18 (Friday or Saturday or Sunday )
Please see Registration for complete pricing options and ticket packages
Transportation
Those flying to this event are encouraged to carpool from Philadelphia International Airport (PHL) to make the one-hour drive to New Hope. Attendees will have to share the cost of renting cars. There may be some limited service using our van rentals between New Hope and the airport. If you are need of the limited service, please make it known via registration.
Deer Park Camp Overnight Lodging Facilities:
The Campground  includes two large buildings and individual cabins for overnight stay.
The Lodge: accommodates 48 people in twelve separate rooms, each with two bunk beds, for a total of four people per room. The bedrooms all open into a central, all-purpose room, with a wood-burning stove, cathedral ceiling, and skylights. The Lodge is equipped with central heating, central air conditioning, restroom facilities and showers.
The Bunkhouse: a free standing building which can house 32 people in 8 separate rooms. The Bunkhouse is not heated or cooled but provides more space than a single cabin.
22 rustic Individual Cabins: each sleeping 4-8 people in a one room setting . There are separate bathhouses for cabin members' use.
All lodging accommodations include the use of twin bunk beds which are the same size and height. As needed, the bunk beds in the Lodge or Bunkhouse can be separated (placed side by side) to allow for more legroom and space.
There are power outlets in the Lodge, all purpose rooms, and in select areas around the facility.
If  a person finds they are  unable to stay overnight at Camp Deer Park due to issues surrounding ADA accessibility they should make it known at registration.   Affirmation will provide alternate accommodations at the Nauvoo Family Inn to these individuals at no additional expense than the regular cost to stay at the Camp.
For more information and to register for the 2017 Leadership Retreat: https://affirmation.givezooks.com/events/2017-affirmation-leadership-retreat-new-hope-pennsylvan
To learn more about Intersectionality, please visit: https://www.sfu.ca/iirp/documents/resources/101_Final.pdf
https://lgbtq.unc.edu/sites/lgbtq.unc.edu/files/documents/intersectionality_en.pdf
Retreat Highlights
We are working toward having this retreat feature the following:
Event speakers from LGBTQ Mormon intersectional communities presenting new information/perspectives about intersectionality

Networking and conversations will be an area of focus

Attendees will be inspired to apply what they have learned about intersectionality in the LGBTQ Mormon community

Members of the LGBT Mormon intersectional community will feel welcome and have caucuses to discuss their experiences and concerns

Intersectional allies in the Mormon community will learn more about the unique perspectives of persons in the LGBTQ Mormon intersectional community

Programming will be designed to emphasize "radical inclusion" in the LGBTQ Mormon community
For more information and to register: https://affirmation.givezooks.com/events/2017-affirmation-leadership-retreat-new-hope-pennsylvan
We hope to see you there !
Stay Connected. Receive our free e-newsletter, articles, events, and more. Subscribe below.