Mormon Pride in DC: A Report from Our Booth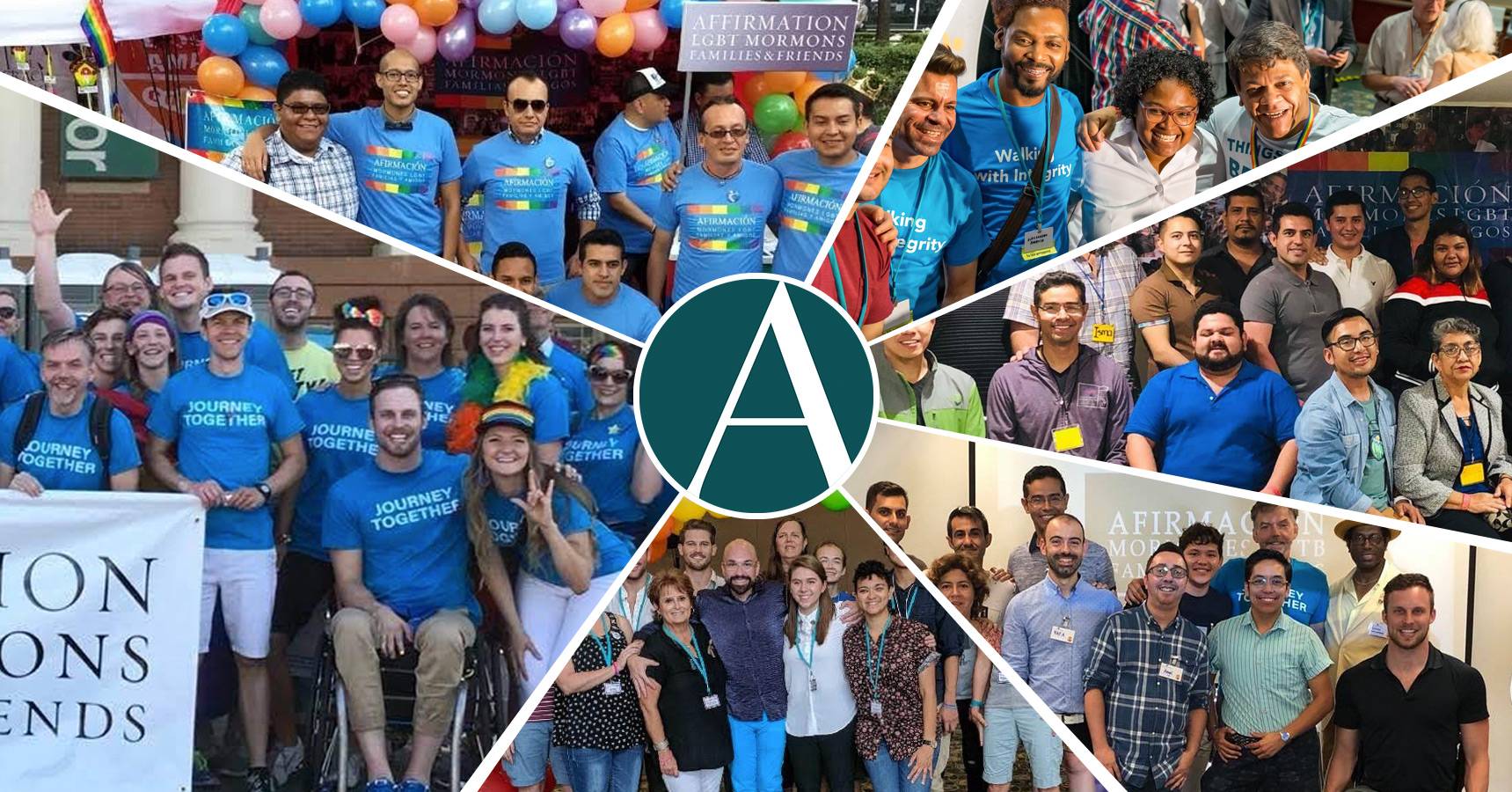 People are marching–not only in parades across the country, but by spreading this message of love (as well as education) to others within the LDS community
by James Brinton
» The Affirmation Booth     » Pictures
See also:   » A Mother's Perspective     » When the Baxters Joined In
On June 8-9th I had the amazing experience of marching with the Mormons in DC's pride parade with messages of love! In Utah, there were Mormons Building Bridges. In DC, there were Mormons for Equality. I also helped staff and coordinate the booth for Affirmation–LGBT Mormons. So much has been going on in the intersection of Mormonism and LGBT topics in the last few years, that it was time to update our presentation with posters and material of current web resources for youth and families, current research, and information about ally groups fostering dialogue within and without our faith community. Altogether, this information let people know they are not alone, promoted evidence-based education on LGBT issues, helped individuals navigate pathways of faith and sexuality, informed of growing numbers of straight allies in the church, and fostered faith in Jesus Christ.
On Saturday we marched in the Pride parade. After a tremendously moving experience at last year's Pride parade, I could hardly wait to go again. My cousin, her husband, and two kids drove all the way from Boston to show love and support in word and action, saying that if others in the family weren't ready to show unconditional love and support, that they (my cousins) were there to represent the whole extended family for now. The group of marchers made amazing signs and the crowd cheered as we walked through the neighborhoods of Washington DC. Once more, I was flooded with feelings of love and joy as I walked and held a poster that said "Love: The Most Important Part of an Eternal Family."
An overwhelming trend, still all too common, is that when an LGBT Mormon comes out of the closet, they often face tremendous misunderstanding, opposition, and hostility from LDS family and friends. Many are kicked out of their homes and faith community, ostracized by family members, and are at great risk of committing suicide. Numerous stories have been told of lives and families ripped apart because of teachings of the church and actions of church leaders and LDS families of LGBT Mormons. Slowly, with more dialogue happening about these tragedies, some are starting to respond with increased listening, empathy and love to LGBT individuals.
One quote from the church's official website, www.MormonsAndGays.org states that, "Jesus Christ commanded us to love our neighbors. Whether sinner or saint, rich or poor, stranger or friend, everyone in God's small world is our neighbor, including our gay and lesbian brothers and sisters. Latter-day Saints believe that our true commitment to Christian teachings is revealed by how we respond to this commandment." Demonstrating this commitment in action, people are marching–not only in parades across the country, but by spreading this message of love (as well as education) to others within the LDS community. My friend Maggie made a sign that said "Free Hugs from Mormons 4 Marriage Equality" and we hugged hundreds of people throughout the weekend! Some people shouted, "I'm one of you! I'm from Utah too!" Others blew kisses, thanked us for our support and work to increase dialogue in our community. Gabe kept the crowd's energy high by running in her super hero cape and giving hugs to onlookers reaching out to us.
On Sunday we set up our Affirmation DC Chapter booth along Pennsylvania Avenue between the White House and the Capitol Building. Many people came by to attend the Capital Pride Festival. A taste of who came by:
A man and woman with their 5-year-old son, members of the Church. When I asked what brought them to the pride festival, they confessed that they were only walking to a nearby museum, but wanted to see the festival before it got crowed. They were surprised, but so tremendously happy that Mormons were there to show kind faces and love to everyone passing by.
A gay Mormon man who left the church over 20 years ago, very upset and wanting to talk to someone about navigating a path in his life.
A recent convert, whose leaders treated her and her children poorly because she is a lesbian. We let her know that some congregations are opening up their doors to lesbians and gays, and that she is not alone!
People who have Mormon neighbors—"Do you have something [reading materials] we can give them?"
Straight members of the church coming to check in and help give hugs and support.
A recent LDS convert from Colorado, with his father, expressing faith in the Book of Mormon and Jesus.
A gay married couple who grew up Catholic and are now LGBT activists, thanking Mormons for Marriage Equality for their courage.
A lesbian Methodist couple telling how they have navigated their life paths of faith and sexual identity.
A straight couple, one being a former member of the LDS church, saying that she has wrestled for years with the Church's treatment of LGBT individuals.
LGBT former Mormons stopping by to say hi and wish us well, and many other LGBT and straight people coming by to express love and thanks.
A mom of two gay sons, who left the Mormon church years ago. She expressed heartbreak that while the church is all about "family first," many in the church and family did not love her sons, and ultimately they all decided they must leave. She began to weep as she shared that one of us in the parade ran up to her unannounced, and wrapped arms around her in a big hug. She knew the Spirit must have led that person right to her. She wept and expressed gratitude for the work we were doing.
People who wanted a free Mormon hug!
Pictures
Stay Connected. Receive our free e-newsletter, articles, events, and more. Subscribe below.